How to Choose Clothes for Your Family Photo Session
The goal of clothing in a session is not just to make you look and feel beautiful, but to direct our attention to your eyes. All of the instructions below come back to that concept. In a great portrait your eye knows the path to the subject and does not have to do any work to find it.
Three things to avoid
Before we dive into coordinating colors for groups, here are a few things your eyes find distracting:
Shirts with designs, pictures or words.
The color white because your eyes finds bright things
Black because it doesn't show shadows well, which flattens and can make you look wider than you really are
There are a couple of different approaches you can take to choosing coordinating clothing for your session. These approaches are listed in order of ease.
Easy: Choose two or three colors and go with it! (good for large groups)
This works really well in large groups where only so much coordinating can really happen. Before this photo session, Erin told me she wasn't going to worry about clothing. I quickly emailed her back and said "you really can just pick two colors, it can be easy!" Their clothing came together beautifully with a simple selection of white, black and gray.
With large groups it may be easiest to pick colors everyone has – such as white, black, grey or blue.  Even though white and black aren't my personal favorites for reasons mentioned above, everyone owns them and in a pinch they can be a life saver.  Neutral colors tend to coordinate on their own as well, so picking a color like gray or khaki can also be an easy way to coordinate.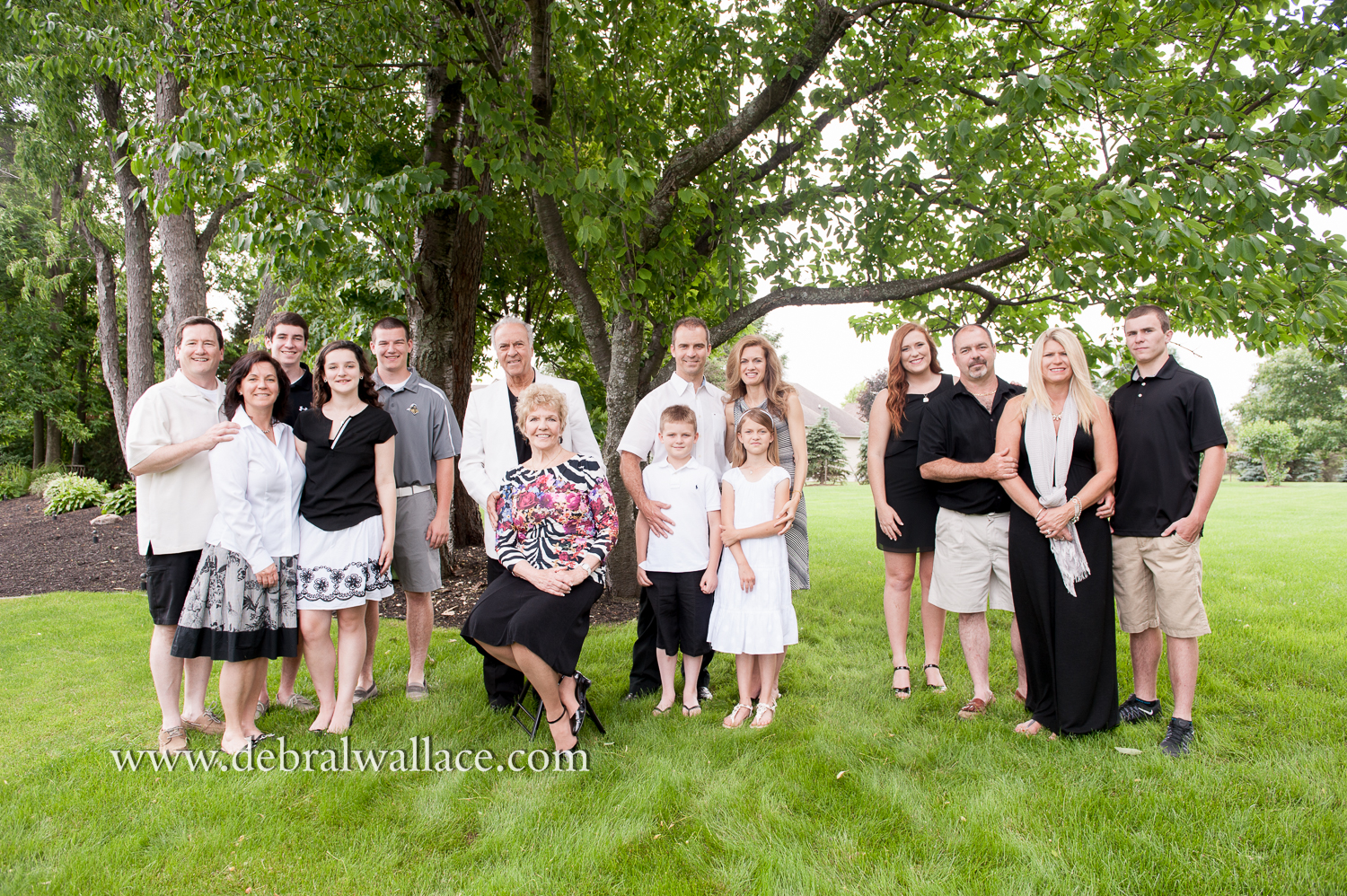 Another extended family group told every family to each pick their own color palette.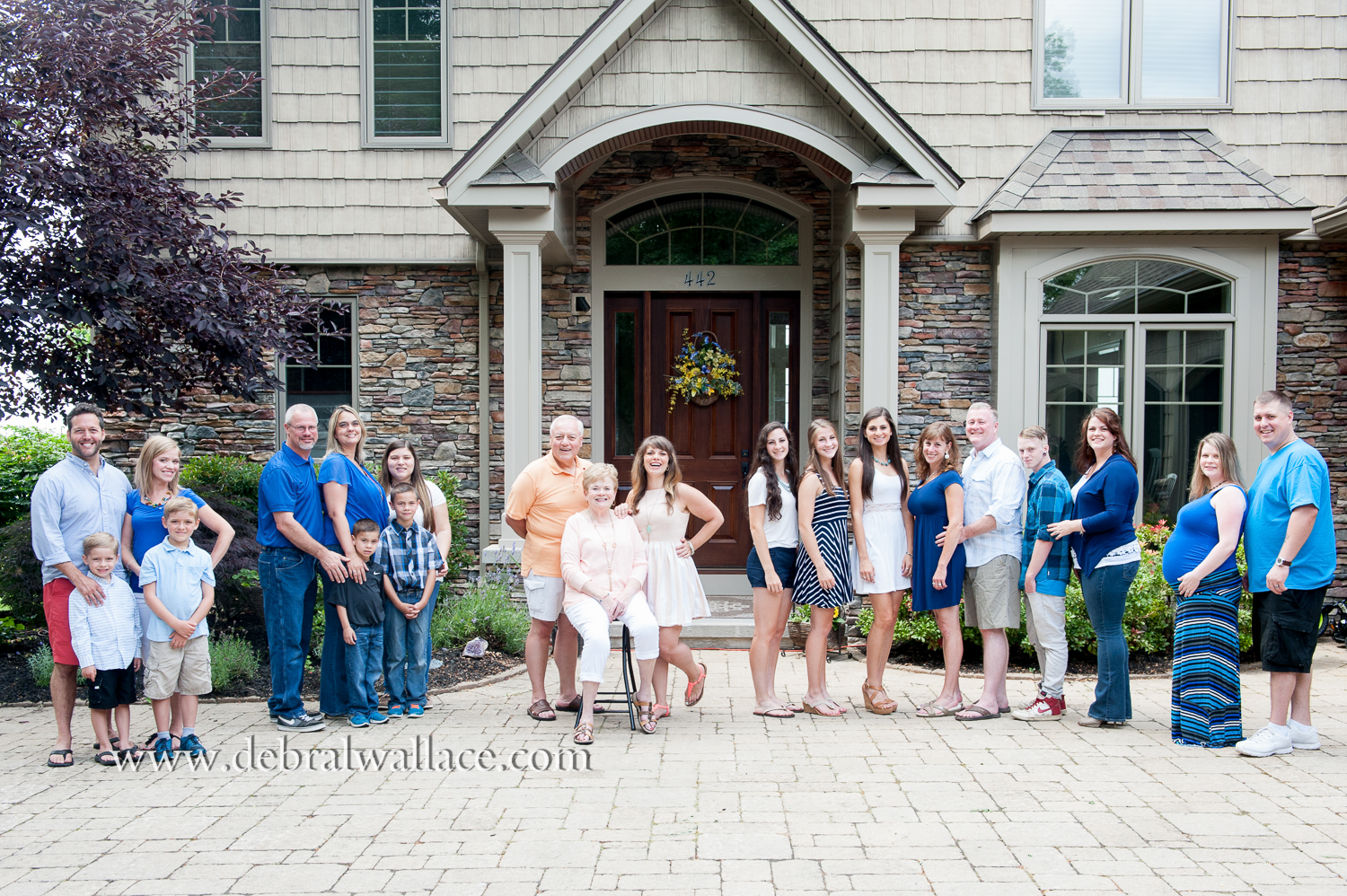 Interestingly, they all picked blue! Except for the grandparents and their daughter, who chose peach.
Some families don't even need to coordinate, since they gravitate toward neutral colors anyway. Believe it or not, Andy and Betsy just happened to be wearing these shirts against their neutral couch and neutral walls. It really brings your focus to their faces, which is what we want!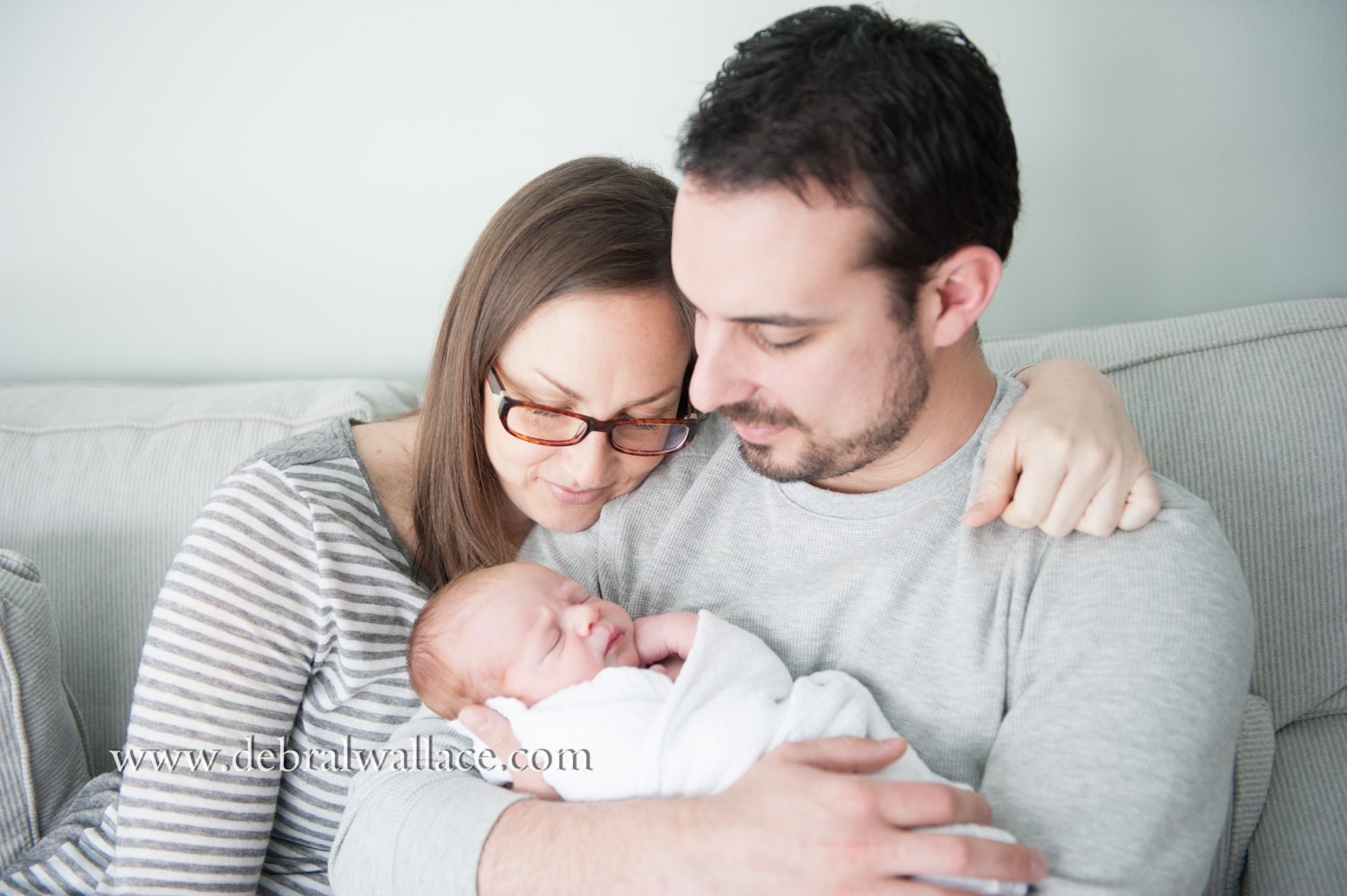 Medium: Buy (or choose) clothes that are color matched
Each year Althea buys clothes that are exactly the same color. She uses accent colors for variety and the looks is one that's cohesive and really pops.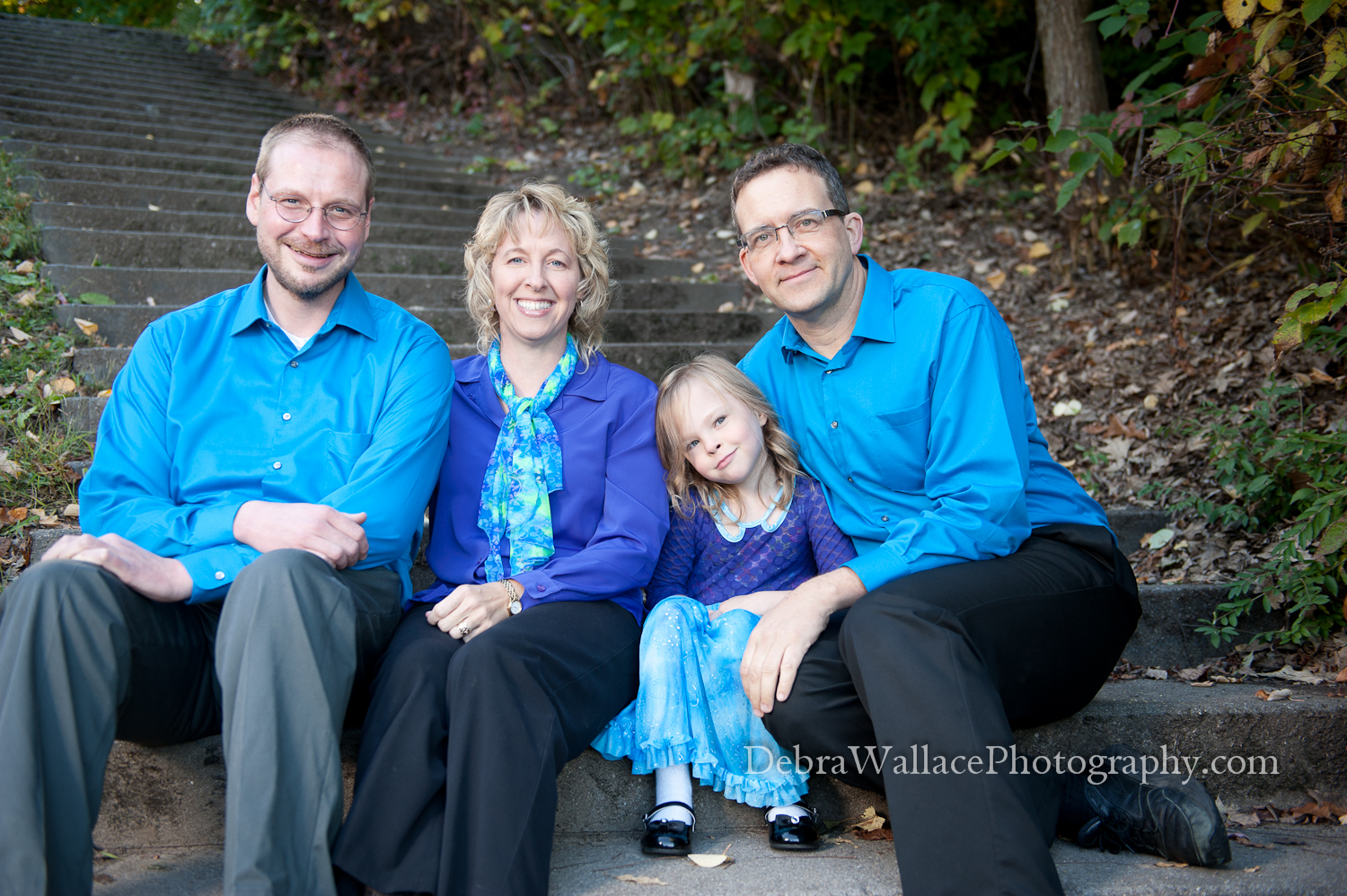 I love in this image how her daughters skirt is similar to her scarf and how she integrated blue and purple together.
She has had issues with shirts arriving on time or with picking a color scheme only to find they don't make men's shirts in mustard yellow and such things, but for a smaller family if you can order something from the same company, this might save you time and energy.  Or if you like the convenience of online ordering and want to take the consignment route, you can also check out Swap.com or ThredUp.
Other families have matching clothes for their kids and that can be a really nice look as well.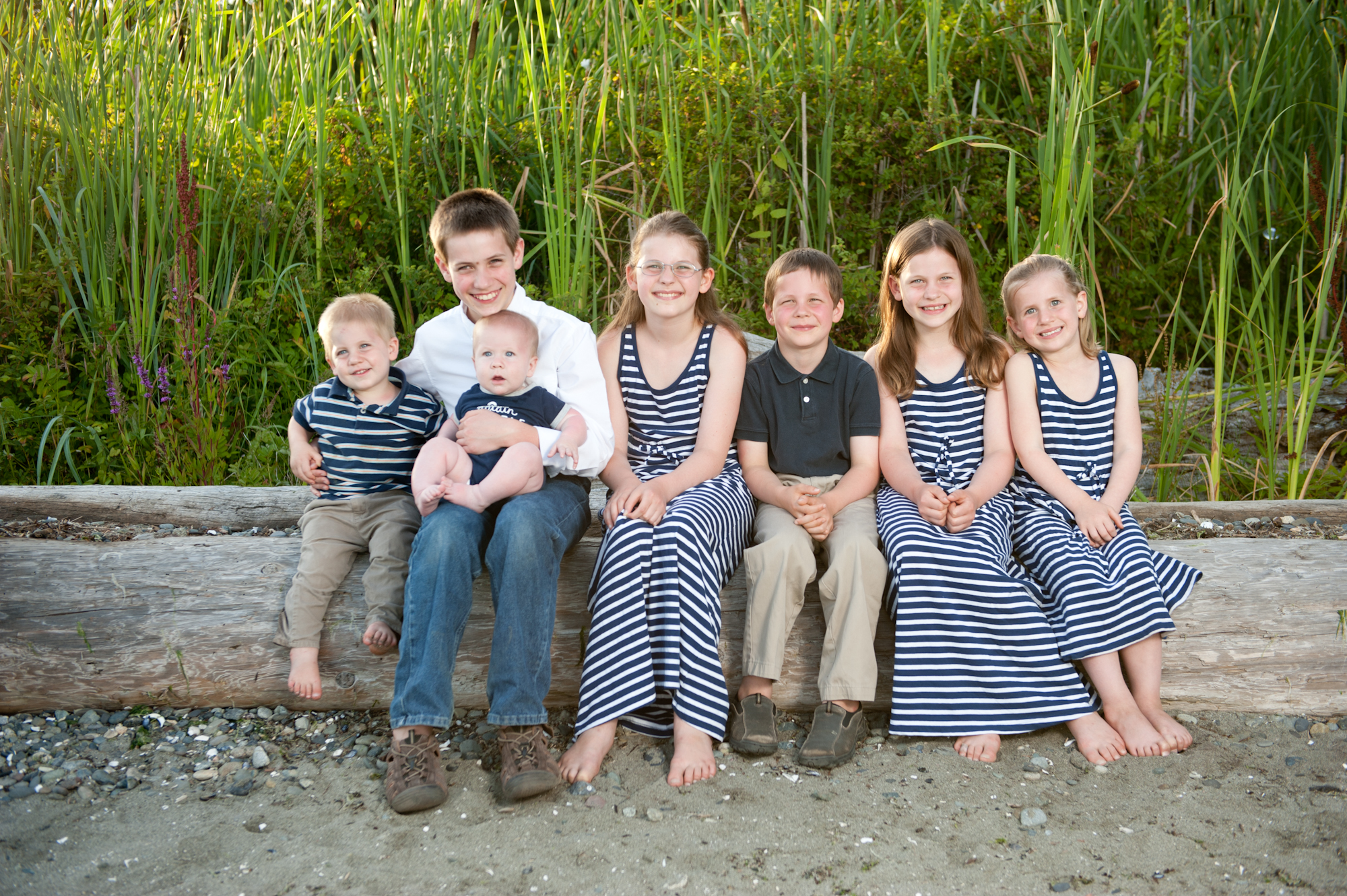 Tara has a knack for acquiring matching clothes for her kids so that's a great option – especially if you already have them on hand.
Hard: Choose a multi-colored shirt you like and match family members accordingly
In this image, Beth chose the plaid shirt first, and then chose everyone else's clothing to match the plaid. The look is subtle enough that you don't even really notice that they're color coordinated, which is why I love this image so much. I would say though that this is really hard to do.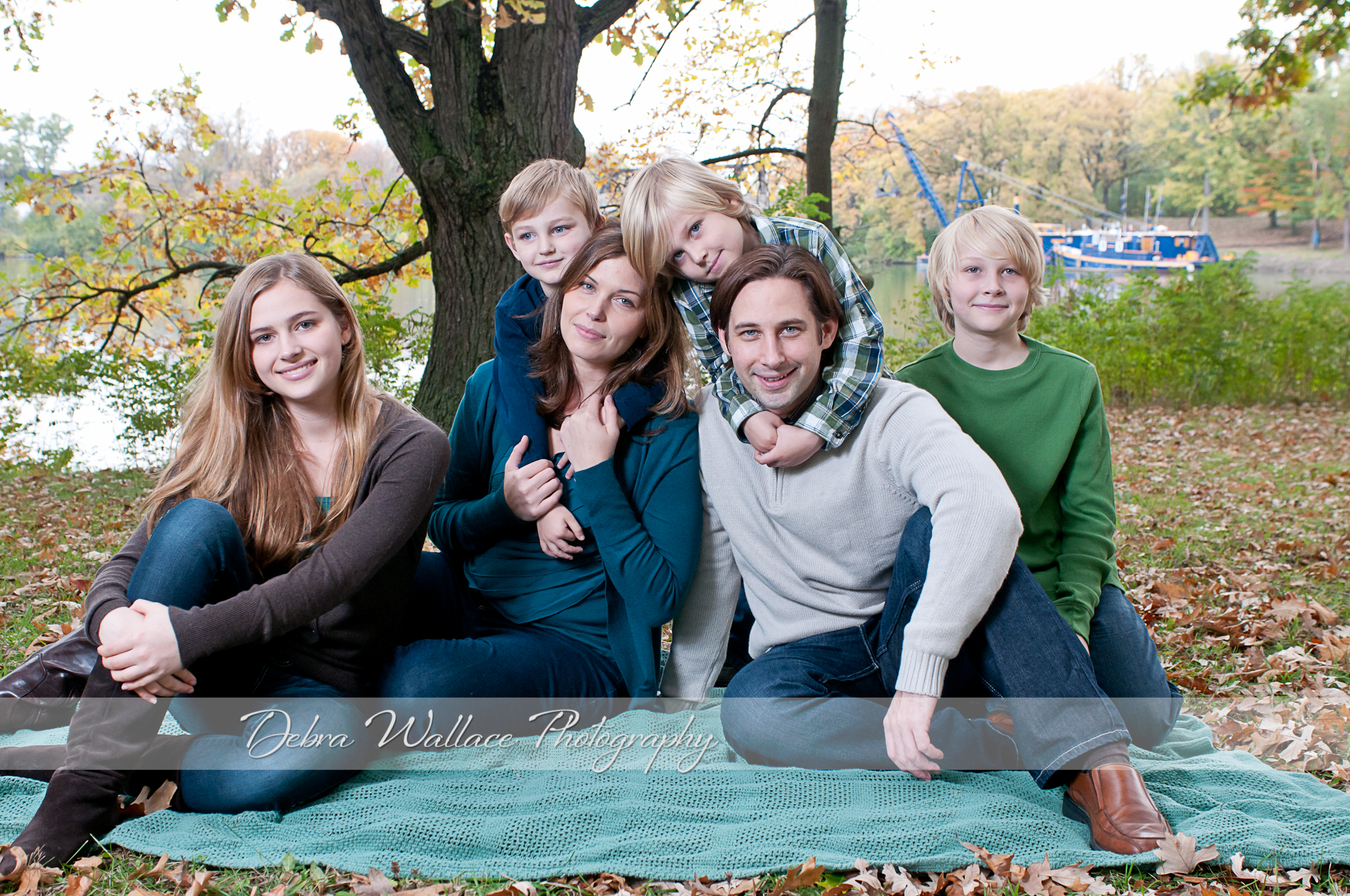 More than one family has told me that they haven't had a session yet because they were having issues picking out outfits.  Don't let that stop you!  It really can be simple and still give you the cohesive, professional photo look.
Comments
comments