Note: I'm sharing this with some trepidation.  Sometimes when people share sad stories the inclination is to give them space.  Please don't!  As we've walked this road we've found that holing ourselves up throws us out of balance. For this reason, continuing to have photo sessions and step out of grief for extended periods of time each day is super helpful. So yes, I'm still doing photo sessions and finding them refreshing and therapeutic, and I'm still doing my best to live at least pieces of life because that's also refreshing and therapeutic (but cooking is still hard to think about – thank you meal train people!!!!!).
The Life and Death of our Son Christian
I became a parent with a phone call and a trek into a sketchy area of the city to pick up two children I'd never met. The day care was the scary kind – with no furniture and things covered in plastic. A beautiful little boy caught my eye and then he ran over to his mother.
One boy had a distended belly, with chia pet style hair and an adult face on a little body. He was running nowhere in particular and I thought, "Any child but him." The day care provider turned to me and said, "This is Makaio."* I asked her how to spell it and she said she didn't know.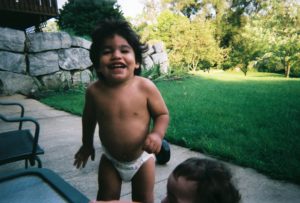 Then she went and got Christian, who looked obese but was actually malnourished, laying lethargically in an expired car seat. She strapped it into my car like it was a piece of furniture and was rattled when I told her they wouldn't be back.
At home, I panicked. I didn't know what kids ate or wore or what kind of schedule they had or what they did all day. I didn't have any toys or books or baby proofing anything. When the hospital lets you go home with your baby it may be scary but it's reasonable. This wasn't. At least the scary daycare knew how to keep them alive.
Matthew had hearing loss, knew no language, couldn't walk correctly, had chronic ear infections, enlarged tonsils and enlarged organs. He screamed whenever he didn't get his way, which was most of the time since I usually didn't know what he wanted. He wouldn't eat anything except peanut butter sandwiches and egg noodles and we still have marks on our table where he would bang his spoon.
Christian was quiet. He'd been left in a crib most of his life and had forgotten how to cry, but after regular feedings perked up and remembered.
They were both happy, except when they weren't, and then it was loud.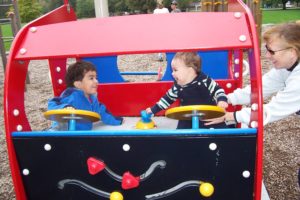 There were trips downtown to visit his birth mom, who hated me because I was parenting her children until we learned to be civil like we'd had a peaceful divorce.  I really liked her, minus our exceptionally awkward relationship.  Christian cried when I left him and that made her angry and jealous, but Matthew knew her and ran to her every time, especially when she had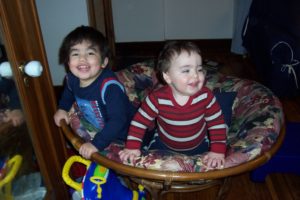 McDonald's.
There were hundreds of appointments and tests and finally a death sentence. Sanfilippo is a one letter error in the genetic code that kills slowly by allowing waste to accumulate in cells, especially in the brain, rendering both the cells and the person non-functional.  It is terminal and untreatable.
I pulled the doctor aside and told her I was going to fight for them and get them the best care possible to keep the disease away until there was a cure.
Her eyes said Sanfilippo will destroy you.
I attacked the disease with a vengeance. I fired therapists when they were negative or not a good fit and my life was filled with appointments that were going to keep them healthy. Matthew attended preschool at one place I fired because they told me he couldn't be potty trained, then another place that assigned me a social worker instead of giving me his teacher's email address, then finally a school I was happy with. Christian was able to stay home because he could function there, and all his therapy was home based because I wanted to spend every second I could with him and in my mind, only I had the passion to keep things on track.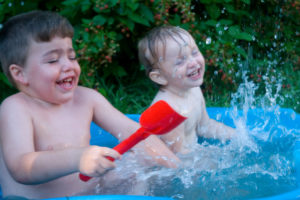 We lived what we thought was a normal life chasing them in Toronto and Texas and at SeaBreeze and Stro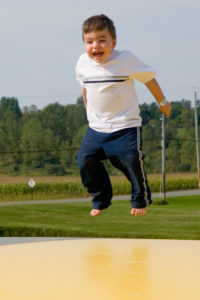 ng Museum. We didn't know typical kids don't need bed tents when traveling and we suspected they didn't smear feces on walls, but we weren't completely sure.
Christian picked up hundreds of words and sang Jesus Loves Me and God Answers Prayer. At the Toronto Zoo the peacock was the most amazing thing he'd ever seen in his life. He loved people, books, water, music, wagon rides and life.  While Matthew was at school, he and Melody spent the day playing together like there was no tomorrow, which was good, because there wasn't.
The therapists came and told us how wonderfully he was doing, and I beamed with pride.  I believed them until I didn't anymore.
During one of Christian's sessions, Melody climbed up to the table and effortlessly assembled a matching game that the OT had been working on with Christian for the past three months. At the age of 18 months she'd outpaced her 3 1/2 year old brother. That was the day I knew I'd lost.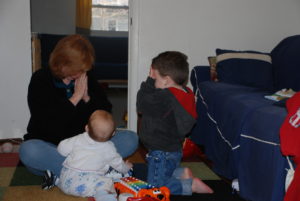 The year Caleb was born Christian could run but couldn't stay. The playgrounds that had been my safe havens were no longer a place for me and our two year old daughter and newborn son were nails in my coffin of balance. His language disappeared, his smiles faded, his swallowing slowed, and his sense of time was absent.
That year was the year that I had to decide between my children. I could attend to my neurologically compromised children full time, or my healthy ones, but I couldn't do both.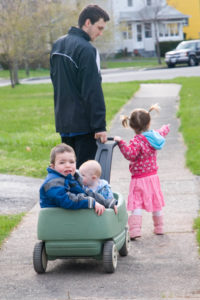 The thought of putting him on a school bus had been traumatic for me until the summer when I thought I might drive off into the sunset alone. When the yellow bus arrived I was nothing but grateful. I dreaded his response but he ran into the bus like he'd been doing it his whole life. When he came home, he didn't seem to realize he'd been gone.
And so it went.
Neuron by neuron his brain left him. First it was language, then time, then motor planning, then identifying people. I remember watching him sit on a bed and look at something longingly but he couldn't figure out how to get around the railing. Then he couldn't figure out how to stand up. Then he didn't remember how to walk all together.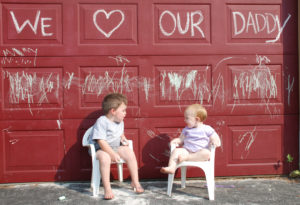 His eyes became blank and he'd smile at faces, but he didn't recognize me. My baby who once said "I love you mama" had dissolved.
I stopped taking pictures. Before KonMari encouraged people to keep only things that brought them joy, I refused to future proof the things that made me sad. These were the days I didn't want to remember and I largely don't.
As the years passed we delegated more and more care. It started with home health aids who came and did morning care, then evening care, then we added nursing, then more nursing, then even more nursing.
For six years our house was a revolving door of medical professionals.
Some worked last minute overnights, stayed late with little notice, or ran unpaid errands. Our pediatrician gave us her cell phone number and made at least five hundred house calls. One year we were on the phone for half an hour on Christmas. One nurse became a close personal friend. Some would come in for overnight shifts at the last minute, or pick up multiple 16 hour shifts in a row. Some would figure out complicated scheduling issues for me, or listen on a bad day.
Others judged, no showed and sent me irreverent texts that left me curled in a fetal position.
Our first home health aid, Emily, was about my age. She encouraged me to get on Facebook before it was a thing, and we spent each morning talking like we were college friends. One day she no called no showed and I never saw her again. Another aid was energetic and dedicated, but became so comfortable she'd welcome Jason home and interrupt my phone conversations to ask what I was talking about. Another gave my children religious materials from a cult and washed our dishes every morning.
When we switched to nursing things improved. We had an easier time with retention. Still one nurse called off to an overnight shift because her hands were swollen from cutting yams. Another quit on New Year's Eve after cataloging for me the reasons I was a horrible mother. Another accosted me because when she arrived at work Christian was sick and she couldn't imagine why I would expect her to work if he was sick. We frequently ran out of medications and supplies because Medicaid doesn't allow automatic reordering and he had upwards of 20 different things to keep track of.  Few nurses would speak up if something was running low.
Caring for him this way was a different kind of mothering and I hated it. I hated ordering supplies and ordering them again when they didn't come. I hated dealing with last minute staffing snafoos or call offs or firing people who didn't show up. I hated dealing with service professionals who came and asked for invasive personal information that had nothing to do with anything, but was on their form. I hated dealing with Medicaid which seemed to be comprised of people who hated life and wanted me to hate it too. I hated nurses judging me for not connecting with them emotionally – not understanding that there had been so many that sometimes I didn't even know their names.
I expected the weight of it to lift when he left us but instead I was catapulted back to the beginning – when I first heard that my baby was going to die, and my heart is shattered by the weight of it.
The feelings come in fits and starts. People tell me I'm doing well but they don't see me when I'm not. They tell me we gave them a good life and that we were awesome people for this act of charity they think we did.
But that's not our story.
They were our children. The adoption was a formality. Calling it charity almost devalues the relationship, making it somehow an act of service instead of an act of responsibility.
But God knows.  He knows how I failed. He knows that it wasn't a noble thing or an honorable thing that we did, but that we just put one foot down at a time, often like a toddler who just received water in the wrong color cup.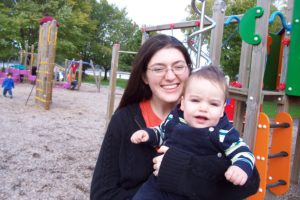 They weren't lucky to have us. We told the foster care people we wouldn't take special needs kids. There were others who would have made better or more passionate choices and could have soaked it all in with gratitude. For us, it felt like a mistake. We wanted the disease free version – we demanded the happy ending.
So today, on a beautiful sunny day as I'm watching my 3 year old running through a sprinkler and my toddler who I'd like to wean crawls up in my lap to nurse and I look out at the pond in my back yard and see my kids in our paddle boat, I feel joy that my 12 year old isn't laying in bed on oxygen and morphine.
Then I start sobbing because he could have been normal and healthy and running in the sprinkler too but he isn't.
Then my five year old walks up to me and says, "We got Christian because he was sick and the doctors couldn't make him better so we adopted him and took care of him until he died. That's a way of helping others and also a way of worshiping God." And walks away.
And I'm so humbled by his understanding that for a moment I'm at peace, until I open Christian's closet and see his clothes and start sobbing again.
* When we adopted him, we changed his name to Matthew.  By then he didn't know his name, and it gave him anonymity during hospitalizations and such.
Comments
comments